How To Order Vegan at Which Wich (2023)
Ordering vegan at Which Wich is quite easy. test 123
Which Wich is a create-your-own sandwich shop, similar to a Subway or Jimmy John's. They have two vegan-friendly sandwiches on the menu (with small modifications) and a few different choices of sides as well. This makes the ordering process really simple and straightforward.
In this quick guide, I'll give you my best recommendation on what to order, how to actually place your order and finally a full list of all the other vegan options that are available.
My Recommended Order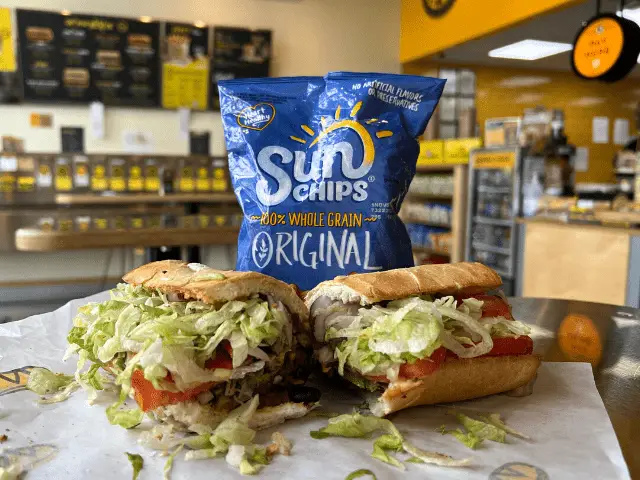 Black Bean Avocado Signature Sandwich w/ Chips
I recommend getting the Black Bean Avocado Signature Sandwich.
Choose the 7″ or 10″ (or the 14″ if you're really hungry) white bread (The wheat bread is NOT vegan – contains honey).
Specify NO cheese or mayo
The sandwich comes with the vegan black bean patty, avocado, provolone, lettuce, tomatoes, red onions and mayo.
Finally, I like to add the Hot Pepper Mix (full list of spreads, sauces and toppings listed just below)
I prefer to pair my sandwich up with a bag of chips. I'm not always a chip person, but when Sun Chips are an option it's a no-brainer!
Ordering Vegan at Which Wich
There are more vegan-friendly options at Which Wich. Here is everything available and how you can order it.
Grab a Bag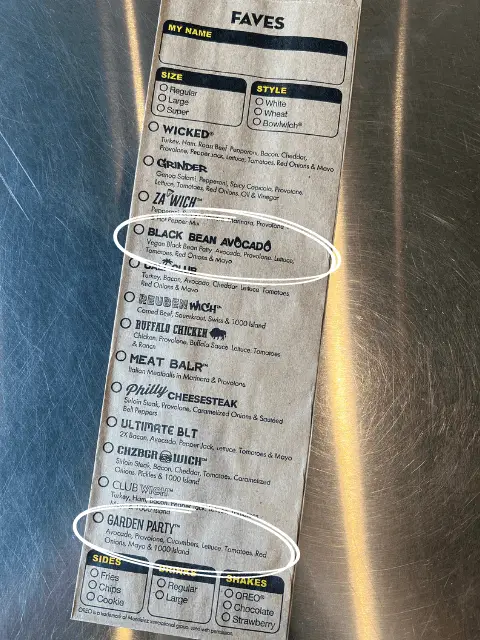 The first thing you'll do when you walk in the door is grab a sandwich bag off the wall. There are two different bags – signature faves and create your own. This is what you'll use to fill out your order.
You can always go with a create-your-own, but it's probably easier to just go with one of the two vegan-friendly signature faves.
In addition to the Black Bean Avocado Sandwich, Which Wich also offers a Garden Patty Sandwich.
By default, the Garden Patty Sandwich comes with avocado, provolone, cucumbers, lettuce, tomatoes, red onions, mayo and thousand island. To order it vegan, order without the provolone, mayo and thousand island.
If you want to forego the bread completely, you can Bowlich instead which is essentially (as the name suggests) a salad in a bowl.
Vegan Sides
You have two sides to choose from – chips or fries.
Chips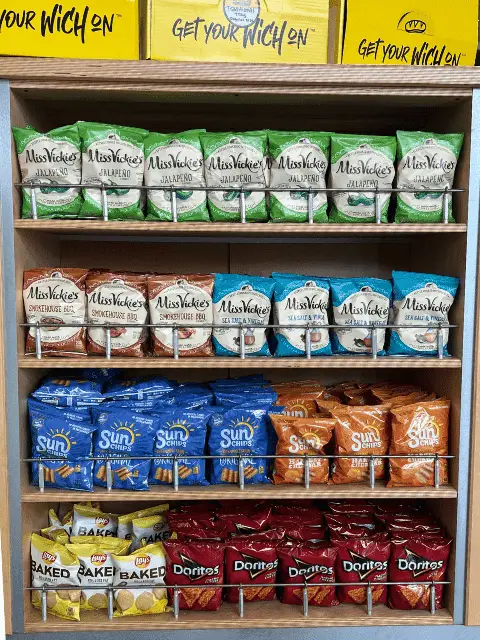 Which Wich offers a variety of single-serving bags of chips. Options may vary by location and all you need to do is a quick ingredient check to see which are or are not vegan. Luckily for me, my location carries Original Sun Chips.
French Fries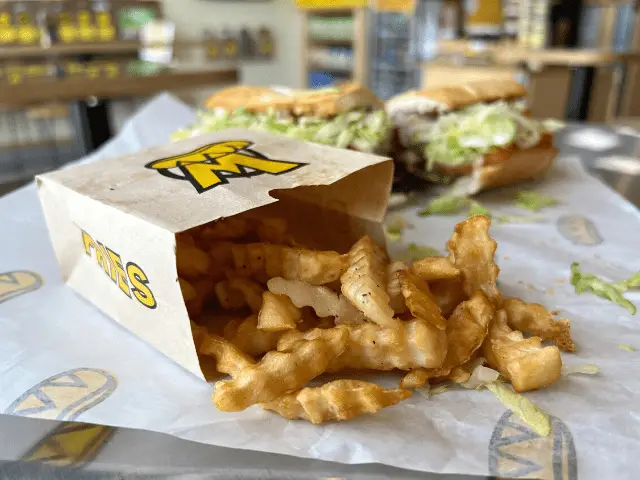 The other option for a side is French Fries.
On the one hand, the fries at Which Wich have their own dedicated fryer. Nothing else at Which Wich is even fried, so you don't have to worry about your fries sharing a fryer with animal products like at many fast food and fast casual locations. (They use canola oil for frying)
However, in my opinion, the fries just aren't that great. I've tried them twice now and wasn't really impressed either time. I'll be going with chips from now on.
Vegan Toppings
If you do decide to create your own sandwich or even if you just want to modify one of the signature sandwiches I've already mentioned, here is a complete list of available toppings:
Avocado
Banana Peppers
Bell Peppers
Black Olives
Cucumbers
Deli Mustard
Dijon Mustard
Grape Jelly
Hot Pepper Mix
Jalapenos
Lettuce
Pickle
Salt
Spinach
Oil
Peanut Butter
Pepper
Red Onion
Tomatoes
Vinegar
Final Thoughts
A few things to keep in mind when ordering vegan at any restaurant that is not a completely vegan restaurant.
ALWAYS check with your server before ordering to confirm any information you have read here is correct. There are many variables – menus change, ingredients change, differences between individual locations of the same chain, etc – that could cause the information on this page to be incorrect.
Cross-Contamination is not only possible, it's likely to happen. Restaurants use shared surfaces and even if a location is doing its best, it's almost impossible to prevent all cross-contamination. If this is an issue for you, I would suggest not eating at these types of locations.
Eco Sasquatch is not responsible for any actions taken based on the information on this page.
If you found this guide helpful, make sure to check out some of my other guides like, How To Order Vegan at Wendy's or another sandwich shop similar to Which Wich – How To Order Vegan at Blimpie.